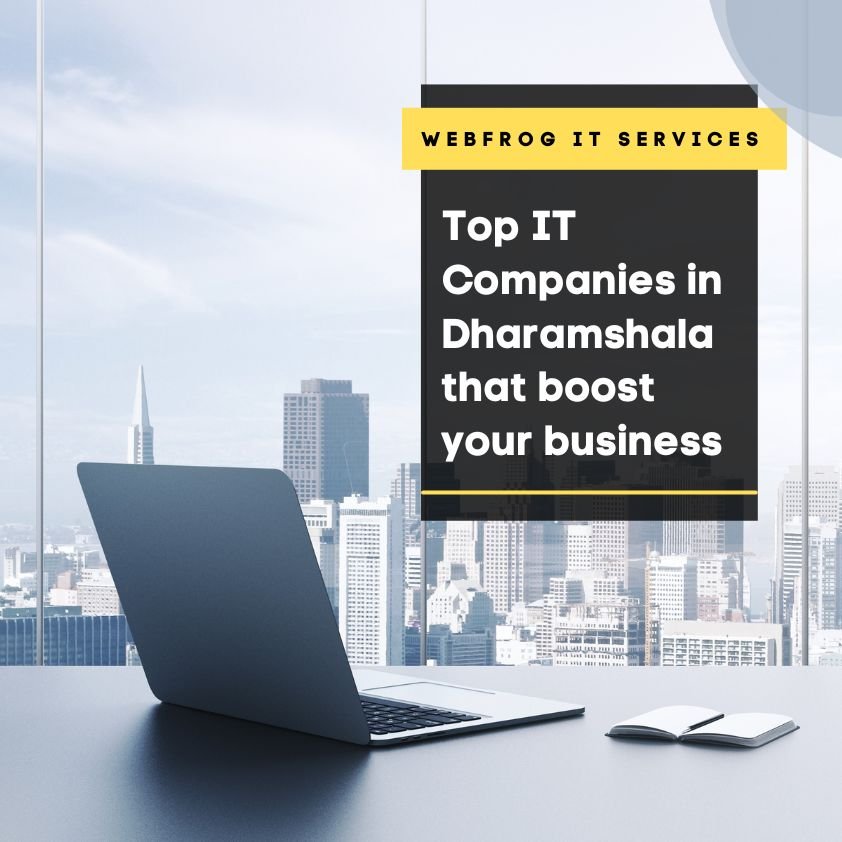 To make your business visible online and to generate quality leads, the IT companies in Dharamshala plays an important role. Only IT experts manage your data, make your company website, do SEO and social media marketing, and develop apps for your company's growth. Today we are sharing the top 5 IT companies in Dharamshala that are providing the best services to increase your business growth.
Webfrog IT Services is the No. 1 IT company in Dharamshala and has an office in Jawahar Nagar. Webfrog was established in 2010 and has offices in multiple locations around the globe, like New Delhi, Australia, and Dharamshala. The founder of the company is Mr. Manish Verma, who is a highly trained professional SEO expert. With complete knowledge and expertise in SEO and web services, app development, and digital marketing.
Services: SEO Company in Dharamshala, Web Development, Digital Marketing, Online Reputation Management, App Development, Web Designing and Development, Content Writing, Graphic Designing, Startup Consulting, and More
Address: Jawahar Nagar, Dharamshala
Contact Number: Call us: +91-9818911193
Email Id: info@webfrog.in
Website: https://www.webfrog.in
2. Unmetered Technologies LLP
Unmetered Technologies LLP is the second-most popular IT company in Dharamshala and a leading technology provider. They have good expertise in web design, development, and digital marketing and have international clients as well. Their commitment is to provide the best web and mobile development to worldwide customers who are looking for IT solutions. The company's retention rate is 99%, and their services include a complete range of web and app development.
Address: Saraswati Nagar, near Charan Bridge, Dharamshala, Himachal Pradesh 176057
Contact: +91 62300-05354
Email: contact@unmeteredtechnologies.com
Website: www. unmeteredtechnologies.com
3. Development Logics
There are so many IT Companies in Dharamshala but Since 2009, Development Logic is on third company and has been instrumental in creating business avenues for global clients. Over the past decade, this company has gained a good online reputation in IT sectors like digital marketing and web development. They have a good client base around the globe and have 80+ employees in their company in Dharamshala, Himachal Pradesh. Their main clients are located in India, the UK, the USA, and Australia.
Address: 286/A, Civil Lines, Dharamshala Himachal Pradesh, India 176215
Mobile: +91 1892222352
Email: contact@developmentlogics.com
Website: www.developmentlogics.com
4. Grotal Infotech Private Limited
Grotal Infotech was founded in the year 2015 and they fill the gap of the market of Dharamshala. This is a good company and should be list on the 4th position in the list of best IT Companies in Dharamshala because they are oldest player in the data entry industry. There dedicated team have 50 profefesionals that handle client needs and requirements. Currently there website (www.grotalinfotech.com/ is not working from a long time but this is a good company for digital growth and progress.
5. Infoage Solutions
Established in 2001, Infoage is a leading software and IT companies in Dharamshala. They stand as the premier company for any business in Himachal Pradesh. They believe in an outcome-focused approach for companies, and they are a very dynamic IT Service provider near you. The Infoage team can generate quality leads for your business as well as build a good brand reputation.
Address: 

 

Kachehri Adda, Ram Nagar, Dharamshala, Himachal Pradesh 176057

Mobile: 

076966 68989

Email: info@theinfoage.com
Website: www.theinfoage.com
We are trying our best to add more IT companies to the Dharamshala database in this blog post. The information we have added is taken from Google. If any correction or add-on is needed, kindly contact us at info@webfrog.in.
Table of content
Related articles